Your special day is approaching, and making sure that it's absolutely perfect can appear to be a daunting task. You've already decided on a beach wedding, and you want to show everyone that it really can be a fairytale wedding, just like on the "Bold and the Beautiful." Beach weddings are naturally beautiful because of the amazing view, but the colors you choose can turn beautiful into breathtaking.
Choosing the Right Colors
One of the most challenging choices, besides your wedding venue, is your wedding color scheme. Whether you choose just one favorite color or a combination of two or more, you want it to reflect your unique personality and preference. After all, it will be setting the tone for your entire wedding day.
Whose Wedding is It Anyway?
This is not your mother's (or sister's or best friend's) wedding but yours and yours alone (well, and your partner's as well, of course). And, although that old song "It's My Party (and I'll cry if I want to)" may be playing in your head; you definitely don't want to cry when you see your Maid of Honor in that purple dress that you would never be caught dead in yourself. You may have thought you loved purple above all other colors, but now you know you don't.
Take a Cue From the View
There's nothing more beautiful than the ocean, so why not get your color inspiration from the water and the sky above it? Here are some especially beautiful beachy color suggestions:
Mint Blue (a blissfully refreshing choice among the beach wedding color choices plus mint blue bridesmaid dresses paired with the bride's white gown blend flawlessly for a beach wedding)
Marine Blue (for a beach wedding right after dusk when the ocean's light is dimming)
Sky Blue (who doesn't like the amazing blue of the sky above us?)
Latte (a neutral that looks great on the shore because the colors of the ocean and the sky are complemented by that of the warm sand)
Go For Trendy Tropical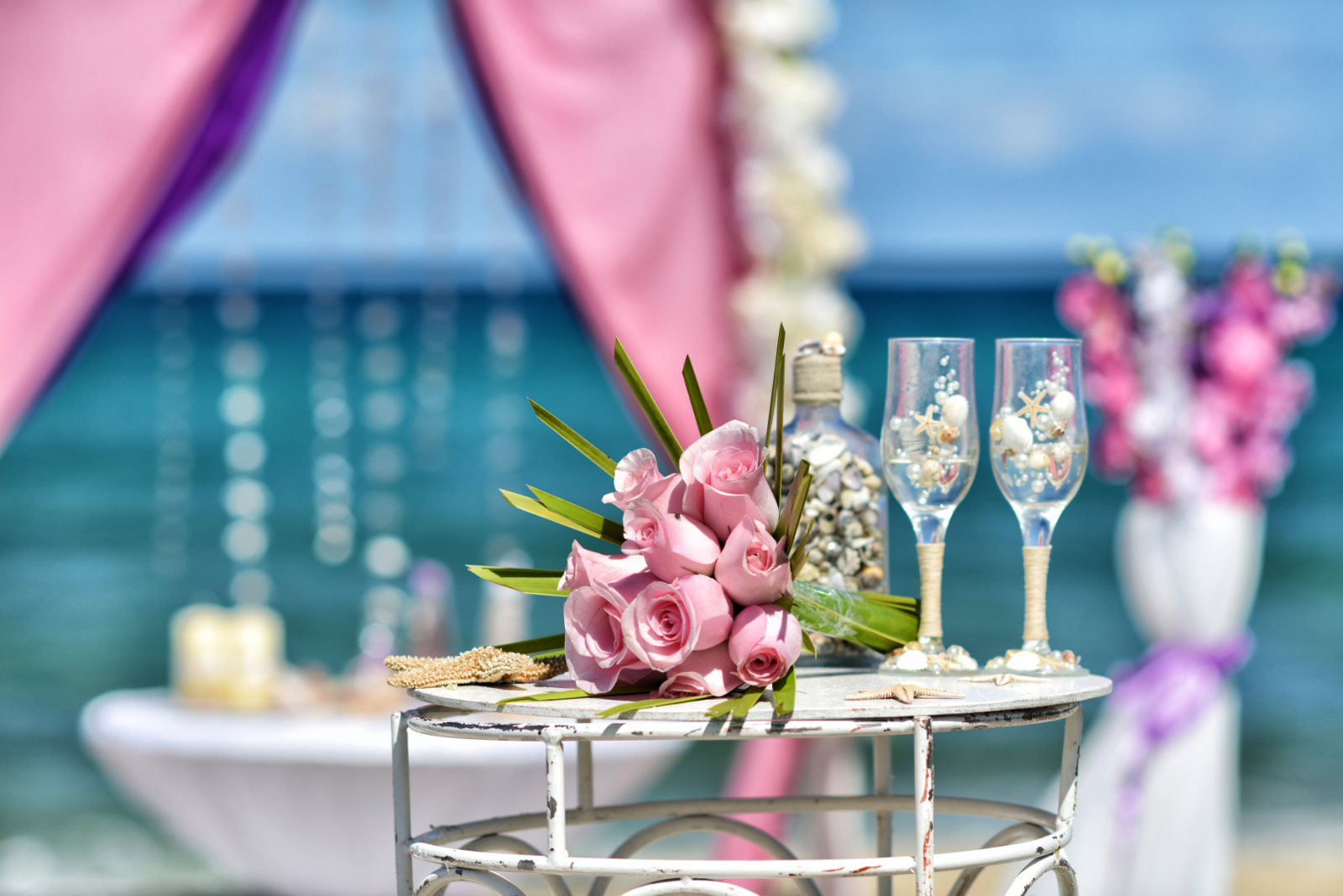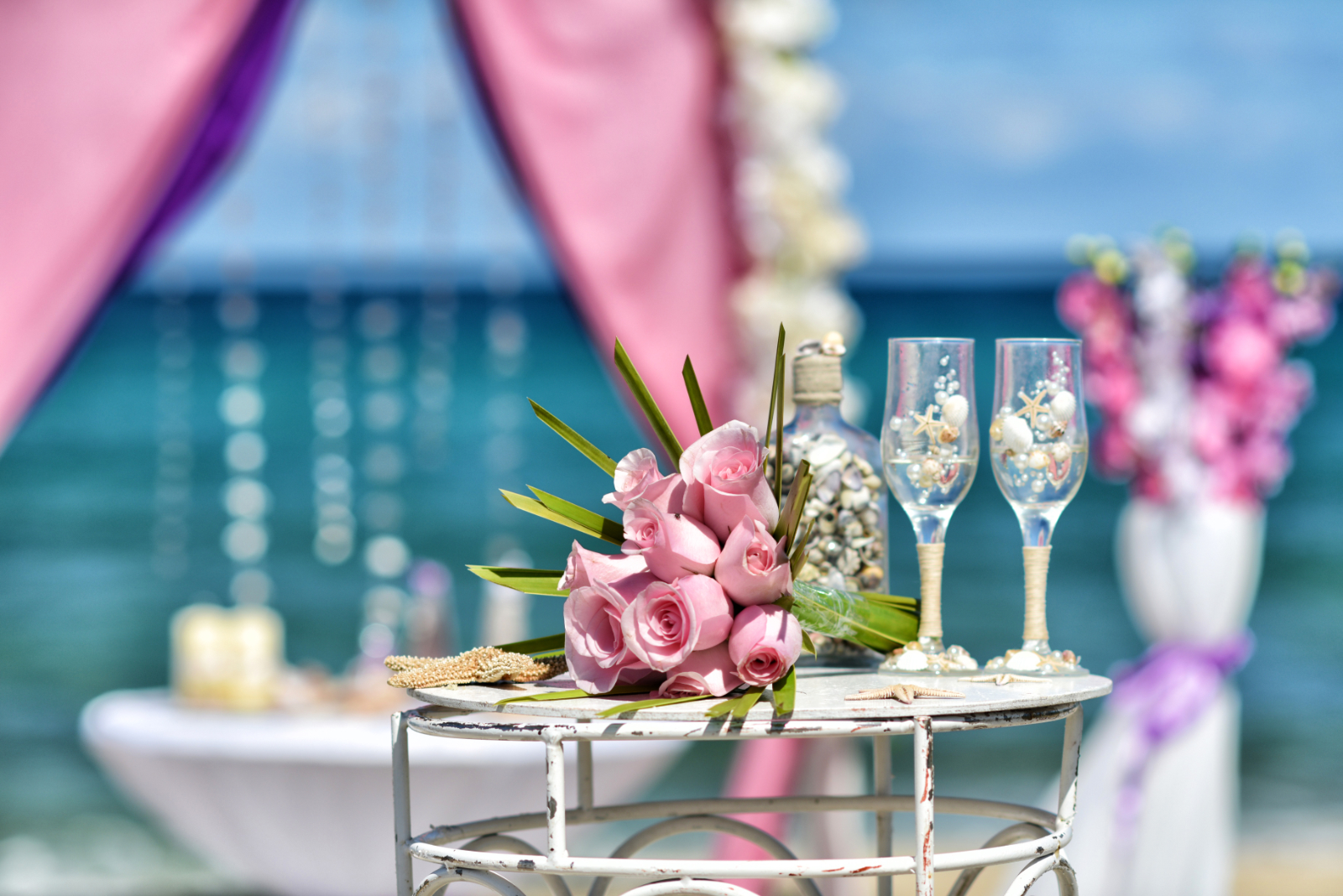 Maybe your style isn't quite that classic and simple, and your fave theme happens to be truly tropical. You love that perfect combination of bold and flowery. There are so many beautiful tropical color combos that can let you allow your imagination just to run wild when designing your wedding and choosing your colors. Some perfectly beachy tropical color combos that'll have you and your guests saying "Aloha" include:
Aegean blue and burgundy
Aqua paired with lime and a touch of Florida flamingo color
Creamy white and cool coral paired with deep sapphire blue
Earthy palm-tree greens paired with beiges
Rich jewel tones paired with pastels
Soft greens paired with sky blue
Turquoise and aqua with a touch of cyan
Vibrant bird-of-paradise orange paired with aqua, blue, or teal
Just Peachy
If your all-time favorite color is elegant and sweet peach, it's a color that not only goes well with a beach wedding scene but also with several other beautiful colors. Aqua with peach makes one of the warmest, most romantic, and soothing wedding palettes. Aqua truly complements peach beautifully because it's just about a direct opposite on the color wheel. However, be sure you don't choose a bright shade of peach to pair with aqua.
Peach also goes well with sky blue, especially when it's a pale shade. The two make a color combo that just can't be beaten. And, when the backdrop is the deep blue sea, it'll be truly unforgettable.
Big or Small?
Some couples choose splashy big family weddings, while others prefer something that's much more spontaneous and decidedly more intimate. Instead of spending several weeks or even months planning a massive event, many modern couples prefer devoting their time and money to a small romantic beach wedding and that memorable honeymoon they've been dreaming about. You might not be able to afford that if you choose a huge wedding.
Whether you choose a large grand event or an intimate small wedding, the colors that you choose are equally as important as the size and setting. And, again, the most important thing about those colors you choose is that they're in line with what you like. What makes you happy color-wise is way more important than what your guests will ultimately like. And, that goes for just ten or even hundreds of them.
Video Inspiration
You can always find more online color inspiration with YouTube videos, like the following if you need more help with deciding.